With orthodontic treatment, our dentists at Yonge Street Dental can correct bite problems and help you achieve a healthy, functional smile that will last a lifetime.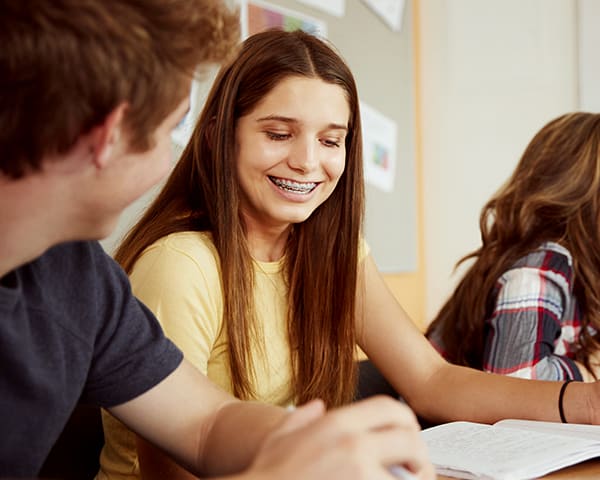 How Orthodontics Helps
Are your teeth or jaws misaligned? If your dentist finds that your teeth are not as straight as they could be or finds crowding or bite are an issue, orthodontic treatment can help correct certain problems, improve your oral health and change the appearance of your smile. 
For patients of all ages, orthodontic treatment can help straighten misaligned teeth, reduce the risk of tooth decay and injury to the teeth, and correct bite problems, all of which make it easier to chew, speak and breathe properly. 
You'll typically come in for a consultation with one of our dentists so they can evaluate your teeth and jaws and recommend a treatment plan. 
Depending on your needs, budget and other factors, braces or Invisalign clear aligners may be recommended to treat your orthodontic issue. 
Traditional Braces
Traditional metal braces can correct even severe orthodontic problems and are usually the most affordable option. Ceramic braces are similar to metal braces but consist of tooth-colored or clear materials to blend in with the teeth. 
Both types of braces have advanced over the last few decades to become lower in profile, more comfortable and easier to care for. 
Straightening Teeth with Braces
Over time, braces apply gentle pressure to the teeth to gradually move them into a desired, pre-determined position. This can help to correct bite problems, crowded teeth, crooked teeth and other issues. 
Most patients wear braces for one to three years before having them removed and graduating to a retainer, which will be needed to maintain the new position of your teeth.
Invisalign Clear Aligners
Transparent and easily removable, Invisalign clear aligners are similar in appearance to custom whitening trays. They are one option for both adults and teens who need to correct orthodontic issues such as spacing problems and crooked or crowded teeth.  
Made of a smooth plastic material, this series of clear aligners is custom-made for each patient. You'll need to change them about every two weeks as your teeth moved into their desired positions. 
When it's time to eat, or when you'd prefer that no one know you are straightening your teeth, you can simply remove your aligners and keep them in their handy container. 
To put your aligners back in, just clean your teeth and insert them once more. 
If you are interested in Invisalign, talk to your dentist to find out if this option is right for you and your orthodontic needs.