As our teeth experience wear and tear over time, it's common to feel self-conscious about them. If this sounds familiar, our dentists at Yonge Street Dental in Toronto can help with a range of tried and tested cosmetic dental services.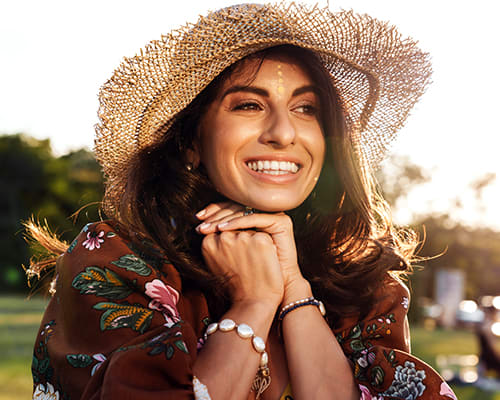 Cosmetic Dental Care for the Radiant Smile You Deserve
While the health of your smile is paramount, it's perfectly understandable if you want that health to be reflected in its aesthetics. Cosmetic dental treatments are designed to help you to meet this goal.
Cosmetic dental treatments, as you might expect, are those that have a primarily cosmetic function. They are specifically intended to make changes to the appearance of your teeth and gums. 
That being said, cosmetic dental treatments can in fact be beneficial to your overall oral health. Discoloured, worn, and broken, teeth, as well as misalignments and gaps, are all dental health problems. Addressing these issues can certainly improve the appearance of your teeth, but it can also improve their function and longevity. Win, win!
In combination with our range of preventive and restorative dental services, cosmetic dental procedures at Yonge Street Dental can help improve the shape, contour, position, symmetry, and most importantly, the health of your teeth.
Teeth Whitening in Toronto
Professional teeth whitening treatments use peroxide-based bleaching agents to lighten and brighten the colour of your teeth. Professional teeth whitening at our Toronto dentist's office is a minimally invasive method of improving the overall appearance of your smile.
Yonge Street Dental offers both in-office and take-home treatment options.
In-Office Teeth Whitening
Teeth whitening at our office typically takes about an hour. Because it takes place under your dentist's direct supervision, we're able to use stronger whitening agents, resulting in an overall truncated process.
After covering your gums in a protective gel to prevent irritation from the peroxide, we'll apply the bleaching gel, and leave it in place for a couple of minutes. Then we'l remove it, and apply Fresh gel for one or more additional periods of about 15 to 30 minutes until the desired results are achieved.
At-Home Teeth Whitening
At-home teeth whitening is completed over a period of weeks. It takes longer because the bleaching solution is less potent, but it can be less irritating and you can apply it in the comfort of your own home.
Your dentist will provide you with custom-fitted trays and enough whitening solution to achieve your desired results over time. You'll wear your trays for about an hour per day for two weeks. At the end of the two weeks, you'll attend a follow-up appointment, during which we will take a look at your results and see how they compare to your reference shade.
Dental Bonding in Toronto
Dental bonding is a cosmetic procedure that can alter the shape and size of your teeth for improved symmetry. It is most commonly used to fill small gaps between teeth, repair chips or cracks, enlarge small teeth.
The Procedure
Before getting to work, your dentist will compare the colour of your natural teeth to a shade guide to select a colour that matches as closely as possible. It's important to note that if you intend to have your teeth whitened, you should have this done before the bonding procedure so that the bonding material is matched to the new, whiter shade.
Once the appropriate colour is selected, the bonding material (composite resin) will be colour matched and applied to the tooth or teeth using a powerful bonding agent.

Next, your dentist will mould the resin to create the desired shape, then harden it with ultraviolet light.
After Bonding
Bonding materials are not as durable as natural teeth, so you'll have to take extra care not to damage your restoration. The composite resin can also stain, particularly if you smoke, or drink staining beverages like cola or coffee. 

To get the most out of your tooth bonding restoration, avoid activities like chewing on ice, biting down on hard food or candies, or anything else that might put stress and pressure on the resin. Keeping up with your at-home oral hygiene routine by brushing and flossing daily can also help avoid problems with staining. 
Full-Mouth Dental Restoration in Toronto
Whatever your cosmetic objectives for your smile, our dentists will develop a comprehensive and personalized treatment plan to suit it. This customized cosmetic dental treatment plan allows us to complete all the dental procedures you need to enhance the appearance of your smile in the most efficient order, with the goal of fewer appointments and efficient results.
Ready to start your cosmetic dental care journey? Contact us today to book a consultation.